The Cycling Gift Guide
National bike month is coming to a close but only recently did it get warm and sunny enough to take advantage of it to the fullest. After a check up and some air we were off for the day, testing a few things out along the way. One thing I'm thoroughly thankful for is
my bicycle
, everything else aside from a helmet is icing really. If you know someone who adores their bike or you do too take a look at some personal favorites to make cycling life easier &/or a swell gift:
THE LIST
Most of the time I wear my everyday clothes to ride here and there but having a jersey that can double for other things such as
hiking and running
is awesome too. Mine is this black sleeveless number by
Gore
bike wear. Something else to consider is how padded ones seat is, mine is quite cushy but these
Pedal Panties
(
Bicycle Lingerie!
) make a huge difference and are great under gauzy dresses.
Along with a helmet, first aid kit is a must too really. See my previous review on the great one by Adventure Medical here. Feeling light headed is no fun either which is why I always keep some energy gel, these ones by
GU
actually taste delicious and worked almost instantly. Protection from the sun is important too, before going out we sprayed ourselves with
Mission
Sun Defeated
50 spray which mists on without becoming sticky and then took little tubes of Neutrogena's new
beach defense
SPF 70 to reapply throughout the day. The result... no burns!
A few other things from Mission which make really great gifts are their
Endura cool
instant cooling towels and their instant cool arm sleeves. Add a little water to wet both and it stays cool for ages. It has sun protection built in as well. Quite magic how it works. More sun protection comes from my favorite sunglasses to ride with from
Rudy Protect
. See my
previous review here
.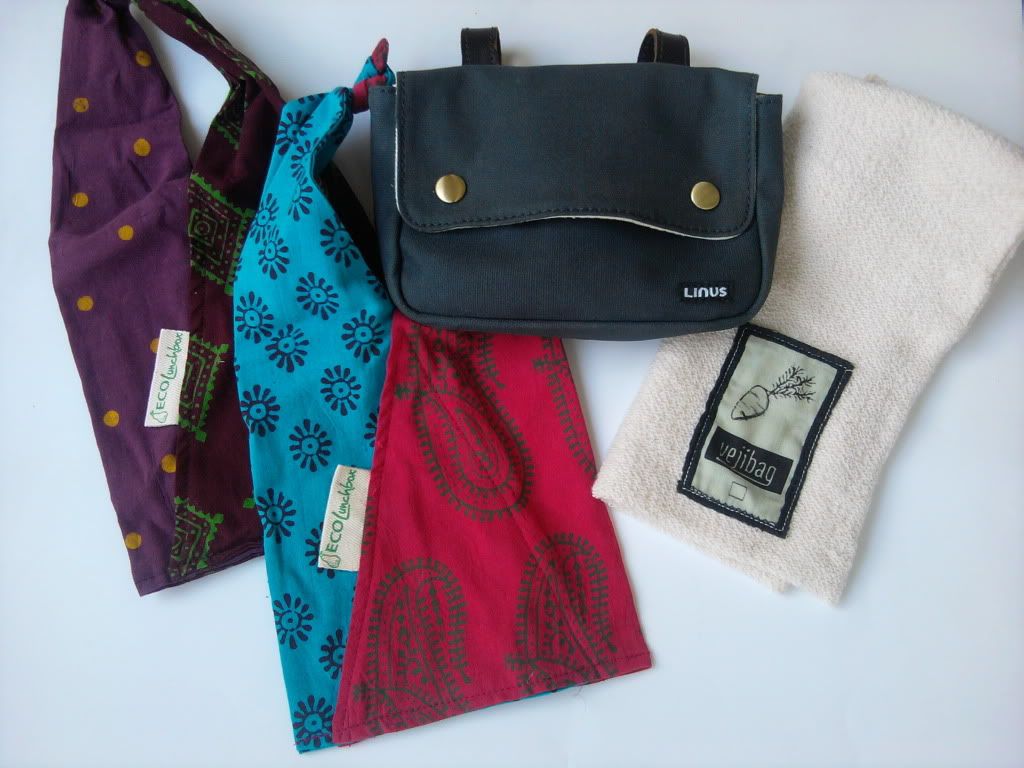 Since we're usually going some place to shop or eat afterwords reusable totes to hold our helmets, keys and little things helps a great deal. We've been using these by
EcoLuchbox
(see their
larger one here
) and something really helpful for at the farmer's market is this organic cotton
Vejibag
. When wet it kept everything crisp even in the 85 F heat of the long day out. See the
Vejibag in action here
. Then lastly where I keep the first aid kit and some tissues, my little Linus bag on my handlebars.

Something else to think about giving is this subscription box service by Bike Loot, see the full review of what came in one months box here.
Happy ridding everyone!
Bike panniers:
Basil
Handbag: Vintage
Shoes: New Balance
Image: Magda & mam for Gave That