New Drugstore Beauty + Travel ♥
As promised here's what has been tucked inside this newly discovered kiss lock makeup bag by
Vera Bradly
. The way it opens works so well and I love that it's lined in plastic... when snapped shut it really locks spills inside which I found out with some powder. Sadly someone said they've discontinued it although I did see a few still up on their site. Here are a few new discoveries from the drugstore that I'm absolutely loving and packing at the moment:
THE LIST
Picking up little things once we're there instead of packing them has become a bit of a tradition. Sometimes it leads to finding something great. One such case, even though I love the Revlon
Nearly Naked
collection, I had to pick up the new Cover Girl
outlast stay fabulous 3 in 1
foundation too. The major reason was to see if it would stay mat and hold up to the humid, hot heat of our Northern summer's. Taking my Revlon with me I found the
Cover Girl
shade 845
warm beige
to be very close to my Nearly Naked shade of
160 fresh beige
. Thankfully it was a smidgen lighter. With all of these foundations and
BB Creams
as well, they're actually my go to sunblock. Nude skin is the thing now but I badly need sun protection. This Cover Girl foundation has SPF 20 which is pretty good, more if I layer BB Cream underneath. What makes the Cover Girl foundation really travel friendly is it has a very precise pump on it, it does not need primmer and it sets to a powder matte finish.
I really wanted to put it to the test so I wore it in 90 degree heat through
long bike rides
and some serious, hat free block by block shopping. Looking in the mirror afterwards it looked dewy but held together amazingly well. When I took it off no sun burns or signs of sun poisoning which gives it major props. The only downfall is this is not a foundation that is friendly to dry or Retin A treated skin and during the colder months, I doubt I'll be able to use it. This is definitely worth a try and a good foundation to pick up when in a pinch.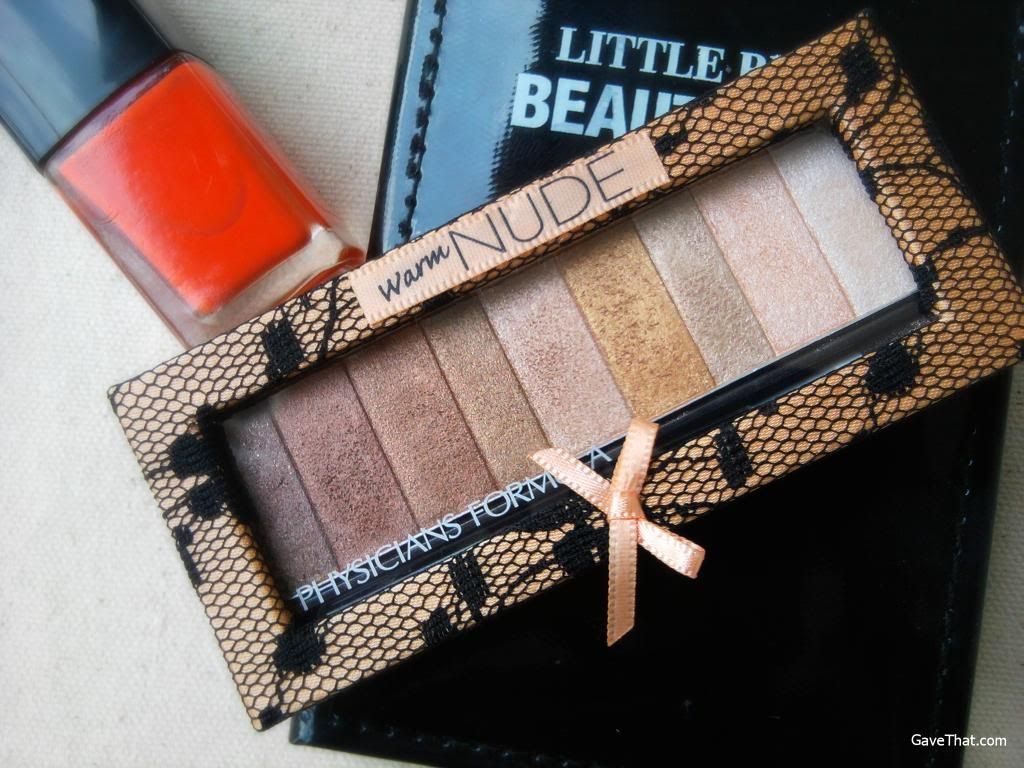 For the eyes I have three things, one this cute black padded
Little Black Beauty Book warm edition
by
E.L.F.
(eyes, lips, face). It's filled with really pretty bronzes, rose golds and a few pops of blue and green. It reminds me a bit of my
Napoleon Perdis' one
from ages ago, the shadows are not as fine but I was surprised how good they are and the padding helps keep them safe. The other is the new
clump crusher lashblast
mascara by Cover Girl. No clumping? It lives up to that and gives a natural effect, flake free, easy to wash off with soap experience which is nice while on vacay but I have to admit to linking
this glossy Jordana one
better for volume. Then something I really have come to adore, the
warm Nude
eye palette from Physicians Formula. There are many versions of this nude palette now but the "warm" one is filled with shimmery golds and bronzes that add a sheen as opposed to chunky glitter. Plus they work wet as eyeliner too.
For the lips I have this cute little tube with the high heel dangling off of it by
Physicians Formula
called
sexy booster lip stain
in their red shade. Boy is it red and classic! Dabbing it on lightly and rubbing it in makes a really nice, rosy effect that lasts all day too plus it smells of vanilla and is delicious.
Lastly some color for the nails. One is my new favorite blue called
Trendy
by
Revlon
from their summer 2013 collection. One of the best applying Revlon's I've encountered yet and takes me back to the good old days of loving their polishes. Dried quick and is surprisingly chip resistant sans top coat. Even on sandy toes. What was really surprising was how good these new Cover Girl nail polishes are, every single one I've tried so far has come out the exact color you see in the bottle. How rare! My favorite, favorite is their bright
go-go mango
(lives up to name), a beautiful peacock feather teal by the name of
constant Caribbean
and one that looks surprisingly similar (a dupe?) to Butter London's
rosie lee
called
timeless rubies
. 3 of these together make such a sweet gift. The best part is they dry so fast, do not chip and stay shinny which is incredible on my constantly tapping fingers.
All of these can be found in most drugstores, supermarkets and big box stores here in the US. For more drugstore beauty finds this year see my
previous post here
.
Image: mam for Gave That