Stolen Makeup Bags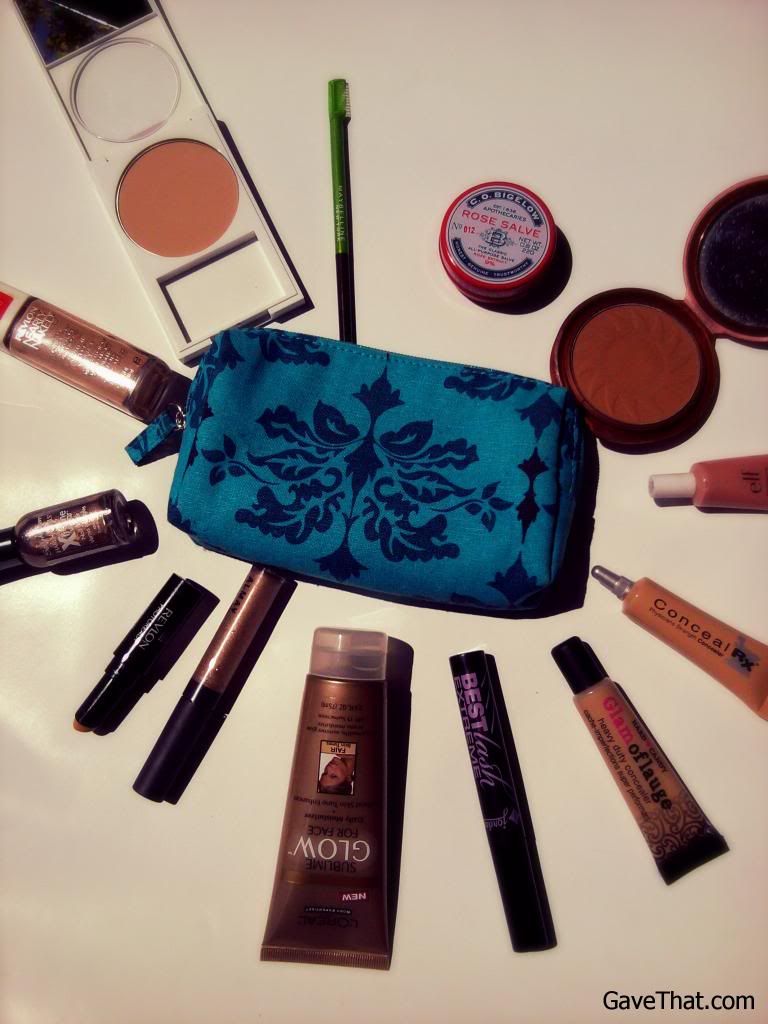 A little while go, looking to replace a favorite drugstore mascara, I happened to strike up a conversation with a lady gingerly picking out makeup. She said,
do you know what happened to my granddaughter?
, and even before she could finish I though to myself
hmmmm... bet this is another case of a stolen makeup bag
and sure enough, that was the case. She went on to tell me her granddaughter brought her Tory Burch makeup bag filled with Nars, MAC, Chanel to school and it was stolen out of her locker. It was pretty obvious Grandma was the one who gave her all of this and was now,
thoroughly disgusted
as she put it, venturing down another route. A much cheaper one.
Sadly this is far from rare, which has always been a bit perplexing to me because who really wants someone's used cosmetics? With large bags having to go into mandatory, yet unsecured, baggage checks in many public places such as museums things are going missing a lot lately. This is happening in offices and I even know those who've had their makeup stolen right out of their evening clutch. So the idea came, what about making up a bag that if it did go missing, would feel relatively painless. Even a little,
got you!
Plus there is some rather good finds in the drugstore right now. Some surprising doppelgängers too. Take a gander, pick and choose, make these up as little favor gift bags or a starter makeup set someone will not be crushed to loose:
THE LIST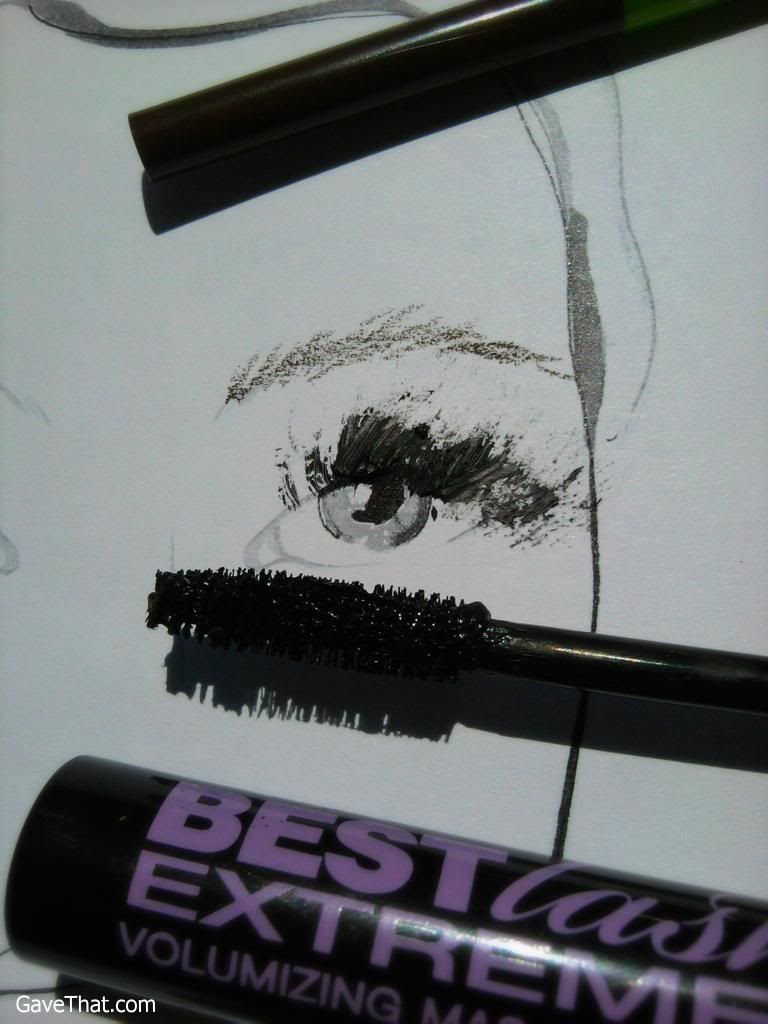 Starting at the base and the need for a good SPF a real favorite is
L'Oreal's Sublime Sun
moisturizer with SPF 15 and a light sunless tanner built in. It's very light and gives a nice glow. Not as good as a BB Cream but great for under one to double up the SPF. Next a few new things from Revlon, along with the BB Cream they recently released, something even better is their
Nearly Naked
liquid foundation and matching pressed powder. The foundation is clearly inspired by Urban Decay, which I have but never use because a) it kept breaking me out and b) looked way too mat and dry. Revlon has always been good to my skin and their new Nearly Naked line is no exception. It really does look natural and has a SPF 20 to boot (my color is 160 Fresh Beige). The powder, which seems to run a little on the dark side (the color of mine is Light 020) is lovely, creamy, smooth and almost doubles, for me, as a powder foundation.
A lot of times
BB Cream
or the L'Oreal Sublime Sun is enough, especially in the summer, but it's amazing how much a little concealer here and there can make. That's why I have 3 picks for you, although I was surprised at how much the Revlon Nearly Naked conceals as well. From
Revlon
is their
PhotoReady
concealer which has been around for a while. It's very creamy, conceals well, creases little and best of all it seems golden based which is great for people with Olive/yellowish undertones such as me. The drugstore can be a very
pink
place. They have a nice range of shades in this stick concealer although many are sold out most of the time, obviously there are a lot of follow lovers of this one. Two others that are amazing but come in limited shade choices include
Hard Candy's Glamoflauge
(mine is in Medium 313 which is still on the light side) and
Conceal RX
by
Physicians Formula
(in Natural Light which is the darkest shade but very light). Both of these heavy duty concealers are very similar although the Glamoflauge is slightly thicker and really does cover, even tattoos. I know someone who recently returned Kat Von D's Tattoo Concealer because the Hard Candy Glamoflauge did a better job.
A few other bits for the base is this bronzing powder by
NYC
in
Sunny
which is so cheap but is one of the loveliest mat bronzers that I've ever owned. Go figure. It lasts for ever too. For a highlighter and to give a little color to the cheeks
E.L.F.
(eyes lips face) makes these little tubes of
Shimmering Facial Whips
with a favorite color being
Lilac Petal
. It also comes in a Multiples type stick but the shade is called
Persimmon
. Both are reminiscent of NARS but I prefer the E.L.F. because they're more natural whereas the NARS looks very glittery and obvious, especially in summer.
Five more things with a few dupes. Starting with the new
Almay Intense i-color
liquid shadow + color primer. The one pictured here is 054 for
green eyes.
Are my eyes green? No! What drew me to this particular product is a) I needed a new eye shadow primer and b) as soon as I saw this particular shade my thoughts were
Urban Decay Primer Potion In Sin!
This Almay i-color turned out to look almost identical, went on the same and best of all lives up to its claims of not creasing and lasting all day. It looks pretty as is on the lids too. If you adore primer potions, definitely give these Almay liquid shadows a try. Especially since they have colors that Urban Decay does not make in their primer line. Then for the lashes you might have already heard about
Jordana's Best Lash Extreme
. Its turned into one of those cult phenomenons and I can say, I love this... even more than my Benefit They're Real which seemed awesome. Yes, this is incredible stuff that never went raccoon or flaked, unlike so many of my Dior, Chanel, Anastasia, and other drugstore ones sitting in
that box
. For only $2.99 it's worth a try. Lastly for the eyes or eye brows really is
Maybelline's Define A Brow
which does not budge and is very precise with a self sharpening tip. Best brow pencil I've ever used.
We're down to the last two things to pop in a makeup bag, one being
C.O. Bigelow's Rose Salve
. The taste is not too good but it plumps and hydrates so well. Plus it's great other places including the hands and for bruises and scrapes. It actually reminds me a lot of the
8 - Hour Cream by Elizabeth Arden
which is also a save, but this is much cheaper and more portable. Last doppelgängers is this little
Sally Hansen
Hard As Nails nail polish in
Time to Shine
which is a dead ringer to my
OPI Designer De Better
from the Ltd., Muppets Collection of yore. The Sally Hansen has actually been getting a lot more use.
Most everything here can be found in US drugstores such as CVS with the exception of Jordana which I've only been able to find in Duane Reade / Wallgreens. E.L.F can be found online
here
and Hard Candy
here
.
Makeup bag: Contents by Allegro
Image: mam for Gave That