Gilt Groupe - Invitation Enclosed
(Please see update all the way at the bottom of the page) In case you're new to Gilt Groupe (
gilt.com
), it was founded by Alexis Maybank and Alexandra Wilson as an invite only online sample sale site that is
free
to join and now ships internationally. Behind those black website walls lie some incredible steals. Best of all I have a special invite for all Gave That readers (that's you!), simply sign in
via this link
and you too can partake.
Along with bags and apparel
Gilt Groupe
also frequently features high end candles, glass wear and jewelery making it perfect for budget gift shopping that only looks and feels like a splurge (be sure to visit the "gift" area daily). As for my experiences with Gilt, this has to be one of the best out of all of the sites that have popped up as of late. For one Gilt provides a shopping experience online that mimics what you would find in a high end boutique or department store. The boxes and little thank you card that ship your items feel luxe and most of my orders were sent within days unlike 2 to 3 weeks as has been frequently the case elsewhere. Customer service comes through and I like the way they reach out and try to keep members in the loop about how the website and service is being upgraded. Gilt, at the moment, is
the
bar setter. [
click here to sign up using my invite
]
Unboxing Gilt...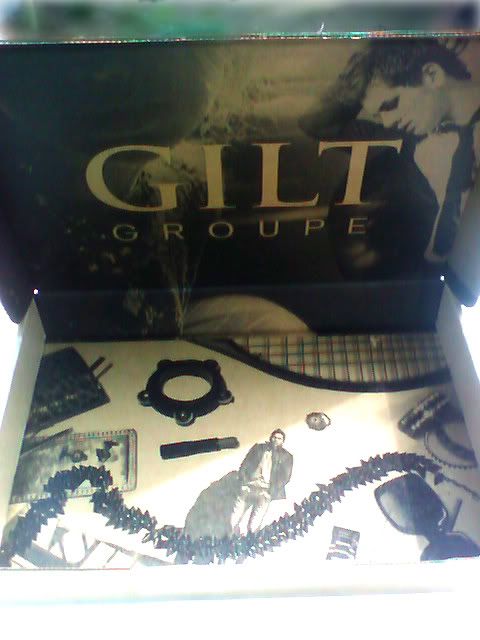 Gilt is rather consistent with their packaging... black tissue paper, black enclosure cards and sometimes, like in this case, delicious graphics inside the box that begs for recycling. Also making an appearance in the unboxing shots is my latest favorite... a Spring 2009 Hypernova scarf by designer
Risto Bimbiloski
. His depictions of nature has made him a beloved designer of mine.
Another point I wanted to mention about Gilt has been their recent work with various charitable causes. In many cases they have been the
only
online venue for limited edition items benefiting charity. This has included the
Versace Art Unite tote bags
, the CFDA's Fashion Night Out collections along with established brands like FEEDBAG and TOMS shoes. This is something I hope Gilt will broaden and expand in the near future!
A little update... Sadly I must add (in 2012) that Gilt is no longer the same company I initially wrote about here. 85% of my recent orders (in 2011), including many picked from their gift department, were badly damaged and very obviously used and returned only to be sold again (the most recent a fragrance 1/3 used!). Many were tossed in a plain box with zero packing of any sort. Non could ever be given as gifts. A real shame as Gilt was once a favorite place to shop but now can not be recommended aside from their charitable offerings.
Looking For Other Sites Like Gilt Group?
If you're looking for a similar members and invitation only experience like
Gilt
, be sure to join my other favorites by checking out
Sample Sales

invitations

@ Gave That
.