Martin Guitar Factory Tour & Gifts
I think I'm starting to
give
Nylon magazine's Dani Stahl 'Factory Girl'
a run for her money. You may remember
Yuengling
, Hershey Chocolate World, a coal mine and now my trip to the
CF Martin Guitar
factory. Yes Dani, I'm nipping at your heels.
[Image: The Martin Museum]
Traveling to Nazareth, Pennsylvania my tour of the Martin guitar making factory started on a beautiful summer day when owners and aficionados came together to celebrate the guitar companies 175th anniversary. After meeting Dick Boak, Chris Martin and Martin cousin, artist Robert F. Goetzl [see our past article,
Meeting Robert F. Goetzl
] we moved on to the new Martin guitar museum. After 175 years you can believe there is much to discover about the history of guitars and their place in American music.
Inside we were met with a fascinating time line showing C.F. Martin Sr.'s 1833 immigration from Germany to New York along with actual guitars from the period that looked rather alien compared to what we have today. Throughout were collections of some of Martin's more eye-catching styles of guitars including the tooled leather covered model favored by Elvis and one-of-a-kind pieces by visual artists.
Next we lined up for the actual factory tour where we would get an up close look at what it takes to create a Martin. I have to admit I wasn't prepared for how big the factory space was nor all of the tedious steps needed to make one guitar. Winding around work stations for at least 1 hour we learned about the use of sustainable woods, abalone shell inlays, stringing, using a robotic arm to apply shellac. Being an artist I was use to the smell of woody essential oils, glue and varnish but a few others on the tour were not and needed a few trips for air. It's also a long tour so be sure to wear comfortable shoes and drink plenty of water prior to starting.
From Trash to Treasure?
One of my favorite areas of the tour was towards the end when we came to the speciality and restoration station. Here we saw some of Martin's higher end models such as the one pictured which is covered in laser cut abalone inlay and meticulously hand crafted.
At the restoration station old guitars are given a makeover and new lease on life. In one story, we were told about a man and his son who found a guitar tossed in the garbage. It turned out to be a rather early Martin and was restored by their department turning the once
junk
into a rather pricey piece. According to our guide not all Martin's are marked or labeled so it might be worth it to ship it to them for a proper authentication.
Overall I consider Martin's factory tour to be a must visit sojourn for anyone who calls themselves a guitar buff or musician, irrespective of the actual brand or model one plays.
The Gift Shop Review
: Martin's gift shop predominately sells items affixed with Martin's logo such as tee-shirts, lanyards, cups and strings. Our favorites were the giant tortes shell guitar picks. I'm not sure what they're actually used for, coasters maybe? What ever they are, they were a big hit as gifts. The other top find was the Martin leather guitar bag tag (think luggage tag) which should really be attached to every gig bag. Most of these items can be ordered
online
and through their catalog.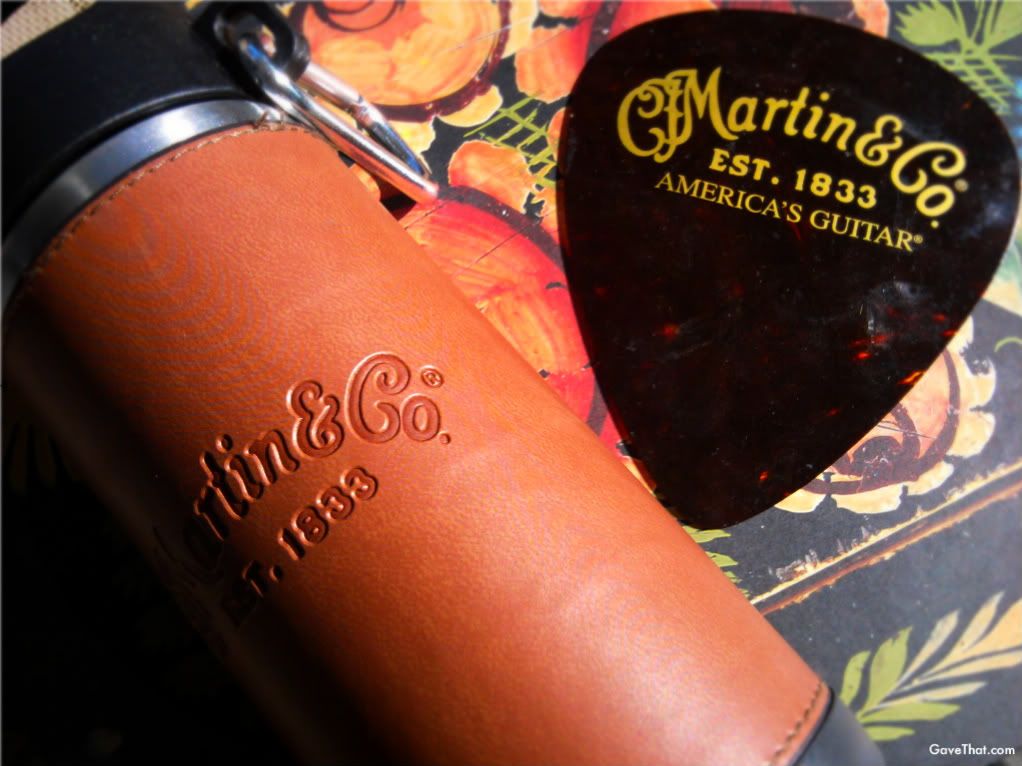 So You Want To Give A Guitar?
With the recent fashion trend of returning to the age of Aquarius and popular music stars such as Taylor Swift, numerous children, tweens and teens are clamoring for a guitar this holiday season. Is that really so bad? If you make a good choice you're gift might end up igniting a career or become that family heirloom. That's rather
good
. To guide you in your decision I asked Dr. M. of the
Eclectic Sound Experience
blog to share her advice on giving a guitar:
"It is best to choose an acoustic guitar as there is no need to purchase an amplifier to go with it.

The second thing to look for is a solid body guitar. HPL or high pressure laminated guitars may seem cheaper to buy but lack the sound and durability of a solid wood body guitar. When you are ready to re-sell or upgrade to a more expensive guitar, the solid wood models will have retained their value.

For the environmentally minded, (we all should be so), there are the Martin Sustainable Wood model of guitars. These are beautiful guitars crafted from woods such as cherry which are in greater supply than let's say, rosewood."
>> For more on giving guitars click here.

For more reviews of a musical instrument nature be sure to visit
Dr. M.'s blog
.
The Martin Factory tour is open 8:00 am to 5:00 pm, Monday through Friday and located on 510 Sycamore St., Nazareth, PA 18064 USA. For more information visit their tour information site.
If you know a tour I should take or an event I should cover please feel free to leave a comment below or contact me about it.
Image: Copyright © MJM & mam for GaveThat.com 2008.
Also Read:
- Giving Guitars: A Buyers Guide