Ultimate Beer Tour : Yuengling Pottsville PA Review
Would you walk through there for a free beer?
We've been hearing more and more about the wonders of a "staycation" and for many this means hitting the road close to home. The state of Pennsylvania is blessed to have a seemingly limitless number of fun natural and man made attractions. One of these man made wonders is America's oldest continuously operating brewery,
Yuengling
. For some time now Yuengling (pronounced ying-ling) has been giving
free
tours through their plant for an up close and personal look at their brewery system. While there are surely other such tours to go on, Yuengling not only provides a look at modern equipment and production techniques but also the bones of 1820's beer making history. Both of which have to be of immense interest to anyone into micro and home brewing.
What ever you do, make sure you're wearing good, closed toe shoes with a thick tread... there are plenty of places to slip and fall. I saw a few people go down.
On our arrival to the site where beers such as
Black & Tan
and the
Porter
are produced we were met with an extremely steep road up to the entrance way. What ever you do, make sure you're wearing good, closed toe shoes with a thick tread... there are plenty of places to slip and fall. I saw a few people go down and I was also almost taken out by someone flying forward. This tour requires a ton of walking on all sorts of surfaces including icy ones when it's cold out.
Once inside we were met by our guide and asked to wait in the gift shop area for our group to go next. Apparently as people showed up they would form a group of about 25 and then take everyone through. This can take up to 30 minutes.
More on the gift shop later
. Once it was our turn we were taken through small corridors and a series of metal stairs and ramps to the various brewing equipment sites. Without spoiling the surprise for anyone wishing to go on this tour, now is the time to go as they have opened up the
caves
(see picture above). Used to house the kegs of beer and keep them at a set temperature year 'round, these caves were once walled off during Prohibition times. You can still see the remnants of the brick walls along with the coal mine-
esk
braces and hand dug tunnels. This area of Yuengling is incredibly creepy and one of my favorite areas of the tour.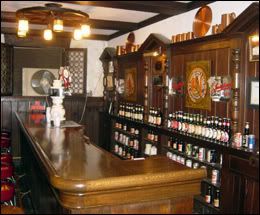 After the tour is over everyone is allowed into the private Yuengling pub for generous free samples of any two beers you'd like. The miniature pub is warm, cozy and reminiscent of something you'd find in Ireland. If only they had more real places like this in the US. Crammed in everyone happily sipped their choices... since Yuengling can't make enough Porter for the masses I always request one there. Rich, thick and with a hint of black molasses, it's incredibly decadent on a cold day. Black & Tan is a close second although it's much easier to buy outside of the state.
The Gift Shop
If you're looking for beer related gifts you have to spend some quality time in the
Yuengling gift shop
. I don't think I've ever seen so many beer related T-shirts in my life. Along with this you can find other little trinkets branded with Yuengling's logo. While pricey items are all over they could have done a better job with less expensive souvenirs. Their new online gift shop has a better selection of such. The gift shop doubles as a museum for Yuengling artifacts and memorabilia.


Top Yuengling Gifts along with the beer itself such as the rare Porter many people were buying copies of Yuengling: A History of America's Oldest Brewery by Mark A. Noon who we met and had a chat with... an extremely nice man who clearly put a ton of work into this coffee table book! For a review of the book check out this.
Yuengling is located on 5th & Mahantongo Streets Pottsville, PA - Pennsylvania 17901 USA (570) 628-4890
. For more information about tours visit their website at:
http://www.yuengling.com/
.
Many have also been coming to Gave That recently looking for information about a possible C.F. Martin guitar for Yuengling. Well it is indeed true. C.F. Martin & Co. created a special edition custom Martin D-41 Special Acoustic guitar for the 180 anniversary of the US's longest running brewery, Yuengling this year. Right now it seems like the only way to get your hands on one is to win it through a special promotion running now until August 31st, 2009. For more information see Yuengling's press release
here
and for an inside look at how Martin guitars are made, see my
CF Martin Guitar Factory Tour
inside look
.
Want more beer related gifts? Check out
BoingBoing's
review of the Heineken Beer Tap at
their gadgets BeerTender VBlog
. Those commercials make it seem so incredibly happening but... Also check out
Drink of the Weeks
find,
of the ibeer
. I say this can be used for hypnosis?
Image:
MattArtz
, Yuengling & Yuengling.com.
Also Read:
- CF Martin Guitar Factory Tour