DIY Leather Pouch Clutch
- DIY Gift Idea -

Today was absolutely freezing outside! Gorgeous but icy so I stayed in and fooled around with projects... here's the latest. A simple
leather clutch purse
inspired by the ones at American Apparel, H&M, and Celine. If you can sew a pillow case, you can do this! Here's how:
What You Will Need:
- Faux or real leather material (mine measures 16 inches x 18 inches or 40.64 x 46.72 cm)
- Fabric lining of the same size
- Heavy duty thread such as beading thread
- Zipper (mine needed to be 15 inches long or 38.1 cm)
- Straight pins, sewing machine or needle for hand sewing, clear nail polish or glue
How To Do It:
Think of this as a pillow case and all's good. Sew both sides of your bag fabric and lining together first, wright sides together and leaving the top open. Then attach the zipper to the top and to the bag fabric only, not the lining. Then whip stitch the lining in place to the fabric of the zipper. Dot glue or clear nail polish to all the finished knots for added reinforcement and the bottom inside orders can be cut off to help create a sharper point when the bag is tuned right side out. My only other tip is to use a heavy lining if the faux leather fabric is on the thin side, it makes it feel squishy and more real. Painting on a stripe might be the next step. For that how-to see
Just B's fab tutorial here
.
Mine came about because I remembered having left over material from a ruined skirt and a really cool zipper I pulled off of a jacket. With a big "M" zipper pull on it no less. Now that it's finished I really like the idea of stuffing gifts inside for another form of reusable gift wrap.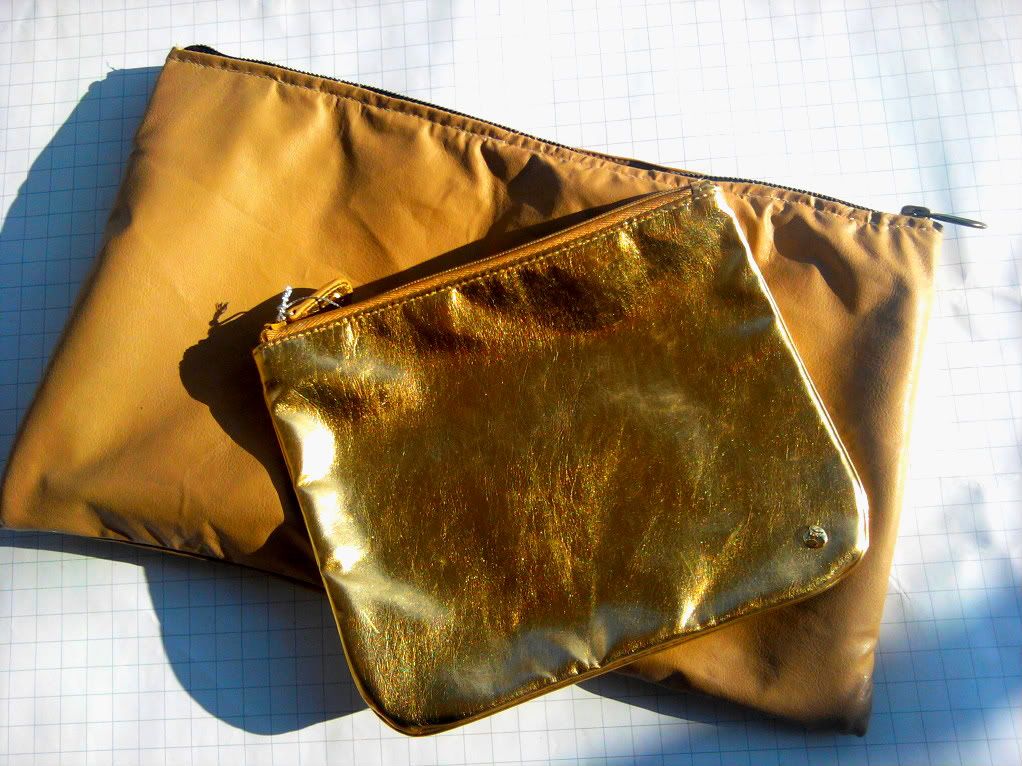 Coat: Carve Designs in blackberry
Bracelets : DIY simple wooden bead bracelet (see the how-to here), Alef Bet, Heather Hawkins
Watch: Vintage Timex
Image:
courtesy
of Magda for Gave That & mam for Gave That