Mango Schnapps Sorbet with Basil - Bring This
Bring This

is a series of Gave That's devoted to dishes and recipes I love to bring and serve! First up: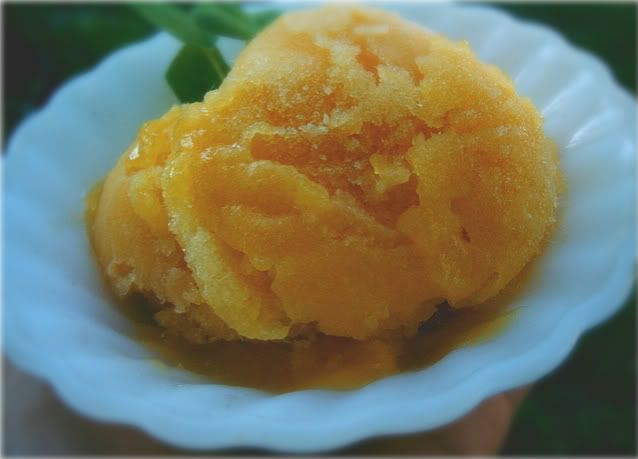 Image: copyright GaveThat.com mam 2008
Mango Schnapps Sorbet with Basil


One of those delicious recipes that look hard but are actually incredibly easy to pull off. The main ingredient is fresh!. Fresh everything including handpicked basil. Fresh is the whole reason I started to whip natches of this up. Someone oh-so-dear dropped off tons of over ripe mango's and I thought to myself we'll never be able to eat all these... then sorbet popped in my mind. Digging out the ice cream maker we got to work.
I used this recipe at
All Recipes.com
, only I added 1 eggwhite whipped and, as always, I found myself doctoring it up with 2 Tablespoons of
Peachtree Schnapps liqueur
. Then I added some basil when serving it but if you really enjoy the herbal flavor add a leaf or two during the preparation of the sorbet.
Right around the time I was happily creating various verities I saw this article in
Page Six Magazine
,
Getting The Scoop on Sorbet
, which shows some crazy NYC blends. How about
cocktail sauce
sorbet or
mango mustard
? Well I'll save those for later and start experimenting on frozen yogurt next. Keep on the lookout for more Bring This features to come.
Ingredients
4 ripe

mangos - peeled and cubed

3 Tablespoons

Peachtree Schnapps liqueur

1

Egg white whipped

1 cup

Simple syrup

1 teaspoon

Basil leaves minced
Instructions


Place all the above ingredients except the egg white into a food processor or strong blender such as a VitaMix to puree.
Beat the egg white until it form soft peaks. Fold into your mango puree.
Pour into an ice cream maker and freeze until completely set up. For me this was overnight. Scoop and enjoy!
Details
Prep time:
Cook time:
Total time:
Yield:

6 cups
Also Read:
- Rose Orange Gift Tea Blend DIY
- Baked Pecan Apples Recipe
- Pumpkin Cream Soup
- Some Gifts Become Addictive [Gourmet Popcorn & NY Cheese Cake]
Image: mam for Gave That