Tag It : How To Add Value To Your Gifts
If you're an aficionado of the
Antique Road Show
on PBS or you adore shopping for antiques you probably already known the value provenance can give to an object. When attached to gifts it can be an added gift in itself. A simple way to do this is to add a tag using acid free papers, glue and inks to make sure it lasts. Here are a few ideas:
When giving a family heirloom or something that has been autographed write a letter of provenance about its history, how you came to receive it—its complete story. Try to be as descriptive as possible and even include a photograph or two as additional documentation.
When giving art, mirrors or pieces of furniture add information to the back with a descriptive label. This is especially helpful if you got it directly from the artist and there isn't a signature.
Attach a tag to pieces of jewelry, especially if they are unsigned, and clothing detailing where it came from and where it was worn. Etsy is a great place to find beautiful and decorative tags that adds to the charm of your gift. I adore the one above by yourheartscontent.
Use a tiny envelope, such as what is used for gift enclosures or tips and insert a letter documenting the history of your gift.
Attach your own bookplate with the story behind the book, how you know the author &/or why you're giving it. One of my favorite gifts is an autographed book from the 30's which included newspaper clippings, a detailed history of how the recipients received it from the author and their found memories of growing up with him. It turned the book into an incredible piece of history you cannot help but cherish.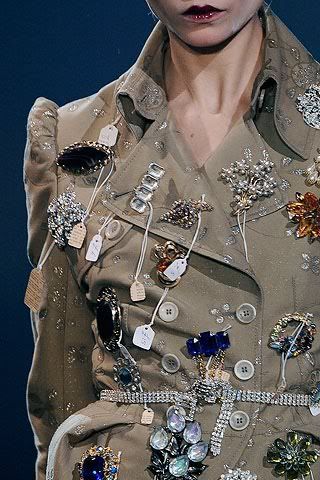 {Designer John Galliano sends tagged broaches down the runway, '09}
Image:
yourheartscontent
|
Style.com
Also Read:
- Making Gift & Place Cards Extra Special
- Etiquette: Enclosure Cards & Gift Tags