10 Gifts Ideas That Help Fight Poverty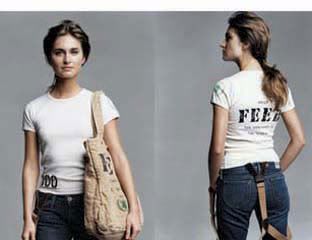 Today is Blog Action Day where bloggers come together to write and bring awareness to global poverty. Gave That has rounded up 10 gift ideas that specifically give back to charities that help fight causes such as hunger and access to education.
1)
The
FEED Shirt
, just like the
FEED Bag
100% of the proceeds from this shirt will go to feeding Hungary children. 1 = 100 children. Buy it at
Marie Claire
online.
2)
The
FEED Bag
, [
see our past article on it here
]. The FEED Bag is sold at
Amazon.com
, Tom's Shoes and at the RL Rugby website and stores.
3)
Jonathan Grahm and his chocolate company
Compartes
of Los Angeles CA has created a limited edition line of chocolates that are inspired by Africa. Not only this but portion of the proceeds from these gourmet candies will go to Relief International. $20. to $30. Each set of chocolates come with a handmade bracelet as well. For more information read more at the
RL Rugby website
.
4)
UNICEF
has teamed up with Gucci and C to create luxe gifts that give back big. [
See our past article here on the handbags and bracelet collections
] - How about giving a needy child the gift of food? UNICEF has a special area
of its website
where you can buy desperately needed goods for children.
5)
When you buy a copy of
The Words and Inspiration of Mother Teresa - LOVE
for $14.95 at the
Hunger Site
catalog 25.0 cups of food will be bought and given to someone in need. A perfect book for giving this coming holiday season!
Be sure to check out the entire Hunger Site catalog for countless gift ideas that donate food in return.
6)
OmniPeace
has shirts, chocolate and other earthy gifts with the added benefit of giving back. Their quest is to stomp out extreme poverty by 2025.
7)
Inches International
has created cute metal bangle bracelets for $5 each which help send children of Liberia and Sierra Leone Africa to school. Buying 20 bracelets is enough to pay for one child's entire school year. For more information check out:
http://www.inchesinternational.com/
.
8)
The lovely
Gogo Silk Scarf
, $21.00, over at
SERRV
(formally a Greater Gift) are created by groups of women in India including the Hazra Road Women's Craft Center, where women living in poverty in poor neighborhoods of Kolkata provide an important source of income to their families through the sales of their crafts.
Be sure to check out the entire SERRV catalog for gift ideas that give back to impoverished communities.
9)
One of the latest release in the
Hard Rock
charity series is the
Green Day Signature Series for Darfur
. $26.00. A portion of the proceeds from the sale of each shirt benefit "Instant Karma: the Amnesty International Campaign to Save Darfur." The new global "Make Some Noise" project from Amnesty International aims to raise awareness and mobilize millions around the urgent catastrophe in Darfur, Sudan Africa.
10)
The
Lush
Charity Pot
is a rich cream with 100% of proceeds being donated to a number of charities including ones to aid humanitarian concerns such as Ecova Mali Africa. $20.45.
Image: Marie Claire magazine.
More...
Simple gifts can help poverty lurking right in your own backyard. A recent report showed more and more
college students are turning to food banks
for meals and as many cities tighten their budgets meals on wheels type programs are being 86ed.
If you have extra food around the house consider giving it to an elderly neighbor or creating a care package for friends and relatives in college. If little things were done more often the ripples of change would be deafening.
For more ideas be sure to read,
88 Ways To Fight Poverty Right Now
, by Blog Action Day's official blog.