Top 10 Coveted Gifts - The Men Stole The Show - NYC Fashion Week
Image: Interview Magazine "Le Palace" August 2008 Anthony Maule Those Dior pants! It all screams Maygar Czikos.
Fashion week in NYC is now over so I thought it only fitting to cover it a bit here. Of course we're going to zero in on fashion as gifts... something that can be very elusive.
When it comes to fashion week and its offerings I have to say the only thing that impressed me was what was seen strolling down the runway on the men's side. The men themselves seem to completely dissolve and all that's left are clothes and accessories I'd like to see hanging on my own frame. I can't be the only one feeling this way!? It makes me somewhat giddy about the times that we live in.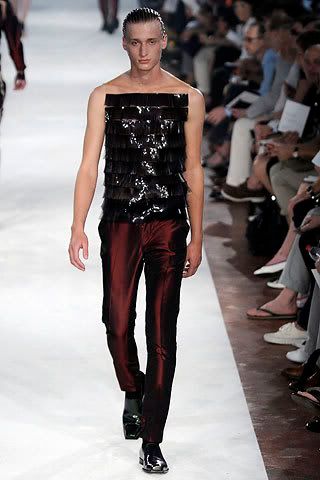 Image: Alexander McQueen 2009 Style.com Marcio Madeira Again, those pants!


The Round Up with a Masculine Twist
Click To View Items In This Spread
When it comes to gifts such as this you may have to do a bit of snooping to make sure you buy the correct size, especially if you find you're snatching some deal that you know your gift recipient won't be able to duplicate. Otherwise include a gift receipt so they can do an exchange for proper fit and you're good to go.
1 )
Long leather gloves.
The original
gentleman's gift
to ladies is making a big comeback. These are growing more and more popular each year on the streets of NYC. Especially with all those 3 quarter and short sleeve coats and jackets floating around out there. Opera length gloves in supple leather can be rather pricey making them something many lust after but can't bring themselves to acquire. This is perfect gift material folks. Keep with black and these will last the recipient for years or if they have eccentric tastes get a bold color such as turquoise blue or red.
2 )
Good Old Frye Campus Boots.
An item you may have to look in vintage stores to find as these seem to be the most coveted. Shoes can be tricky to buy depending on heel height and the shape of the toe. It might be better to bring the person along and surprise them with an
I'll pay for that
sort of gift it the shoe fits. Literally.
3 )
Not these again! The Dr. is back in the house.
A number of designers have come out with their own versions but nothing beats the original stumping look of Dr. Martins. Loud prints such as floral help tone down the ruggedness of the boot. The original and now vintage incarnations can be hard to locate so keep an eye on ebay and vintage stores.
4 )
Over sized face and men's watches are king.
Takes me back to Gucci G days when all the girls were wearing them big and proud. Although I always had a sinking feeling they were trying to broadcast that they had a rich boyfriend. Maybe there is a bit behind these new trend too? Who knows but I love the look. Especially when the watch incorporates gold and a clear face so you can see the inner movement. Add
DVF's Sutra timepieces
to the list as well. It's nice to see the watch returning to its place of important statement jewelry.
5 )
Multiple strand necklaces.
A tad Mr. T mixed with Grandma vintage these necklaces are popping up everything. The nice thing it is so you easy to make these yourself, fishing lore's like the gorgeous Subversive piece above optional, and we'll show you how soon.
6 )
Friendship bracelets that are a tad luxe.
We're not talking about ones made out of floss at camp. We're talking about expensive affairs like
this one we covered here
. The number of people coming to GaveThat.com looking for luxe friendship bracelets is unreal. Never fear we're going to show you how to make your own along with uncovering some of the hottest designer pieces currently out there.
7 )
Clutch handbags are back for evening.
Because giving someone the evil eye for brushing up against your diaper bag sized purse at that social isn't the way to go. Watch old, glamours movies and see what the swanky women do. Unobtrusive bags are the way to go when it's the evening or you want or need to get close in those tight corners. Snakeskin and various exotic leathers are back in a bold way but there are plenty of vegan versions that look and feel rather real.
8 )
Bow ties are not just for James Bond, dear.
These have been on the scene for a while but refuse to go away. Simple black ones are being pinned to headbands and worn on clips, attached to necklaces and wristlets, handbags, belt buckles, turned into pins, you name it. It's fun collecting them and giving 10 or 20 to someone all at once.
9 )
Zippo lighters are not reserved for smokers.
They're for anyone in a bind or who wants to offer a light to someone else or a candle or rope tied around ones wrists. You never know the situation. Sticks and rocks take way too long. Especially in the rain. These done in gold, etched with swirls or painted with enamel scream
Gilded Age
and we all need that fantasy in these
hard economic times.
10 )
Switching scents
. We already covered this here...
take a look
.
Are you craving these too? Have you other wishes? Share your secrets below and who knows maybe you're wish will be granted?
Also Read:
- I'd Love Some Y Mail - Fairwell Yves