Numi Blooming Teas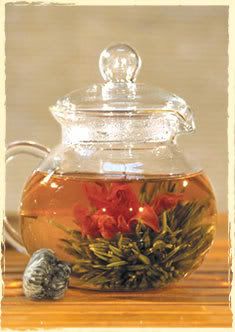 I seem to have tea on the brain but I think that has a bit to do with how cold it still is here. At least there isn't any snow but...
So I present something really neat to see and drink (if you have a clear glass tea pot). They're called blooming teas by a company called Numi. In their dry state they look like dried bundles of herbs. When placed in the hot boiling water they open up into beautiful flowers flavoring and steaming away. My only concern is that they're made in China (for more on this visit
this posts comments area
for what Numi has to say about their tea production).
Look for the
Numi organic gift set
that comes with the glass tea pot and tea for a very unique house warming gift or hostess gift. Think of all the
oooos
and
aahhsss
you'd also have if you gave this to guests at your next tea party. It seems to have such a retro 70's vibe to it as well. For my further review and attempts at brewing some, see
Marie Antoinette's Tea
.
Image: Numi Teas
Also Read:
-
Marie Antoinette's Tea
-
Rose Orange Gift Tea Blends (DIY)
Add to TTIW Wishlist