Goals // Use More Oil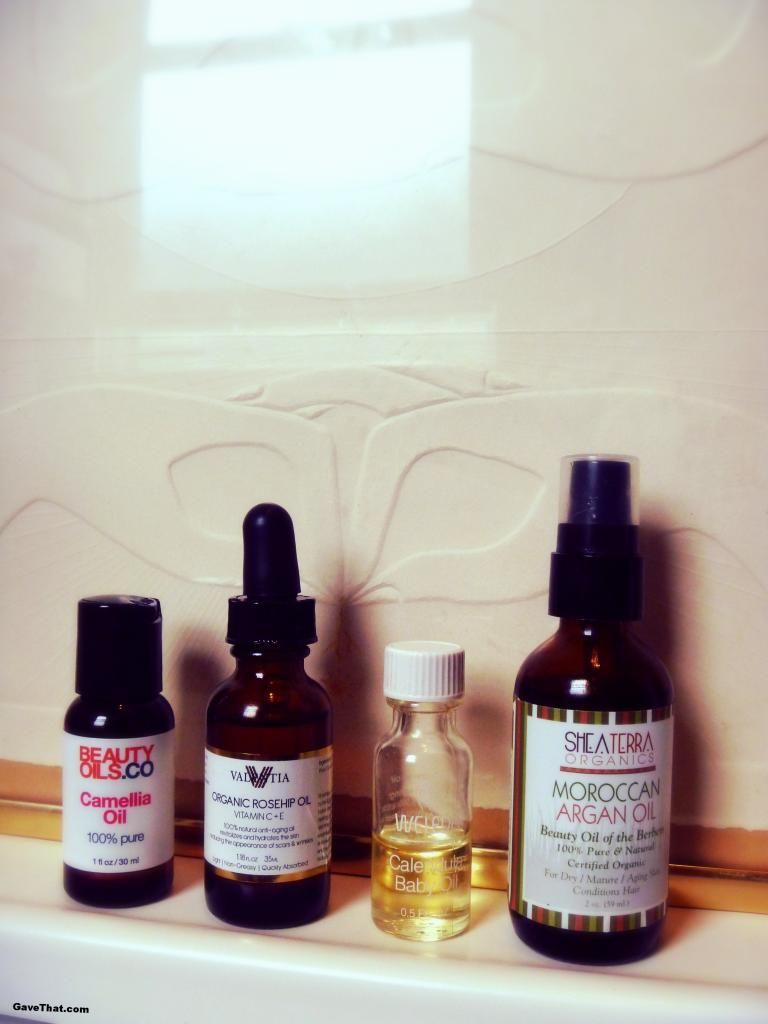 Believe it or not oil can be really, really good for you. Previously, as part of this series on starting the New Year off with a healthy start and a bit of self recovery it's been the sort of oil you gulp down. Now for a few good ones to keep cold weather dry skin away along with pesky flyaway's.
Anyone who has ever been a teenager is probably going to recoil at the thought of putting oil all over their skin (raises hand) but these oils are worth a try. Our skin actually produces more oil when it's stripped or over dry and unlike coconut oil which can clog pores and cause bumps, I've personally found these to be face safe. Don't get me wrong, I love coconut oil (see more about Fractionated coconut below), especially this one from Tahiti, just not on my face, even in virgin form as its caused blocked pores. Instead, my all time favorite skin and chapped lip oil is made from rosehips. It's so soothing, adds a definite sunny glow and smells divine in an earthy rose sort of way. Just wait until all spots have gone as it's not so good while skin is acneic. This organic rosehip oil by Valentina has been perfect for making DIY salves or as is, tapped gently into skin during a warm, steamy bath to fight winter flakes. It can help heal burns too.
Another great oil for healing your skin is Calendula which is extracted from marigold flowers. If you've ever wanted to try the cult favorite Homeoplasmine by Boiron minus all the petroleum jelly and long shipping times from Europe, get a bottle of classic Calendula by Weleda. Originally made for babies it's soothing, helps heal your skin and is perfect for after the bath. It's also much more concentrated and 100% natural. Their Arnica oil is really good too, especially on bruises.
On the multi-use front are two oils that are ever present in my stash. The first being this pure Moroccan Argan oil which I talk more about here and used to create a simple DIY scrub. There are tons of different ones on Amazon that are reasonably priced. Argan soaks into skin immediately even though it's on the thicker side, leaves it moisturized all day and can even help heal acne. On the ends of hair it takes away winter dullness and helps flyaway's too with a single drop. One bottle lasts forever. A lot of blends specifically for hair contain Dimethicone so I always go for pure Argan. The other hair to skin oil is this Camellia oil by Beautyoils.co. A little thicker and almost sticky I've found it works better for me on my hair but many love this as a rejuvenating skin oil and it's long history of use in Japan is fascinating. Women would oil special combs and stroke it through their hair and massage their scalp every night before bed. This one in particular is 100% pure meaning there is no fragrance added. All of my previous Camellia oils have contained a floral fragrance which might have been behind the ensuing breakouts.
One of the best and most versatile oil discoveries this year has been Fractionated coconut oil. This one here is by La Vida Essentials and can be ordered over on Amazon. As mentioned above raw, virgin coconut oil is higher on the comedic scale and can, over time, clog pores and cause bumps. Fractionated coconut oil on the other hand has less of a chance of doing this through thanks to removing portions such as certain fatty acids. Because of this the finished Fractionated oil always remains in a clear liquid state much the same as baby oil and it is scentless making it great for all sorts of DIY projecting including massage oil to perfume oils. Even better it has a shelf life of over five years and when added to different things such as homemade body butters, can increase its shelf life too. Basically Fractionated coconut oil is one in the same with MTC (Medium-Chain Triglycerides) which has been used many years as a food supplement.
Another oil that has been really hyped these past few years is Emu, yet another oil with a very long history of medicinal use thanks to its ability to heal and sink deeply into the skin. For anyone looking for a plant based version another oil with very similar abilities is Jojoba. This is another one of those great multipurpose oils that in addition to being very healing to the skin, like the Fractionated coconut oil above, can prolong the shelf life of homemade creations thanks to all its antioxidants. One of the reasons why you'll see it used as the base for so many natural perfumes today. One way I really love using it is mixed in foundation or patted on under the eyes to keep concealer from creasing.
Having tried many different natural oils over the years there are still new ones that still pop up. A few must tries this year include another of Beautyoils.co's called Kukui which sounds really good for the scalp and Tamanu which is said to heal everything from bug bites to stretch marks. Others I've seen buzzing about are Moringa seed oil and Marula.
Are oils part of your self pampering routine? If so which are your favorites? Look for more DIY skincare and gift ideas coming soon incorporating these and other natural oils.
Camellia oil c/o Beautyoils.com
Rosehip oil c/o Valentia
Fractionated coconut oil c/o La Vida Essentials
Image: mam for Gave That