DIY Boudoir Scents
- DIY Gift Idea -
When I first saw little scented wax tablets hanging from tiny ribbons by Santa Maria Novella it immediately went on my "to try list". And "to try" usually always means DIY. Now that it's
the
season everything is actually materializing finally including these!
What are they? Well, this is a lovely way of scenting things in drawers, in ones closet or room when laid out in a bowel on a coffee table or desk. All of the dried aromatics you would find in potpourri is encased in natural beeswax and amped up with loads of essential oils, making for one truly customizable gift. They're really deceptively easy to make, here's how:
What You Will Need:
Natural bees wax
Essential oils
Dried aromatics (potpourri works great along with French lavender, dried oranges, cinnamon sticks, rose petals, cloves, myrrh &/or frankincense)
Glass container
Microwave
Soap molds or old paper tea boxes lined in wax paper
Ribbons
How To Do It:
Once you have your scent combination down (cinnamon and orange work nice for the holidays along with myrrh and frankincense or rose and lavender) melt your bees wax in the microwave. Read the directions on the back for specific melting times but 1 minute at a time usually works and this can be a great way of recycling left over natural bees wax candles.
Once liquefied stir in your essential oils. Arrange your dried aromatics to the bottom of your soap mold and pour in. If using the tea box method you will create a large block that will be later sliced into tablets with a knife. Allow to cool and set. Popping it in the freezer can help with that. Then poke a hole with a hot nail at the top and string through your ribbon.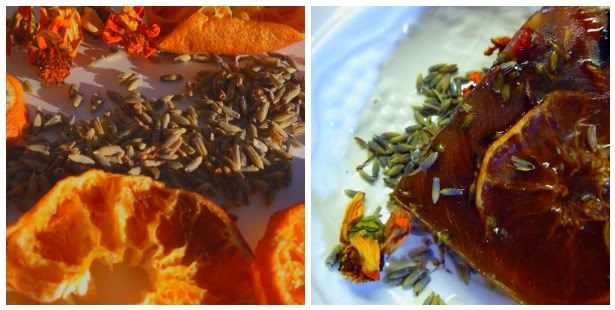 Of course if you wanted to experience the amazing scents of history I would highly recommend the originals by Santa Maria Novella, especially their secret formula Potpourri.
Image: mam for Gave That