Good Earth Giveaway
Good food and entertaining is still one of my most favorite DIY gift ideas. To kick off the summer social season of backyard parties, clam bakes on the beach, snacks hidden in picnic baskets and so on I'll be doing recipes and things of a food like nature on the weekends here at Gave That. Starting today is a surprise giveaway featuring a brand new collection of quick meal ideas by
Good Earth
!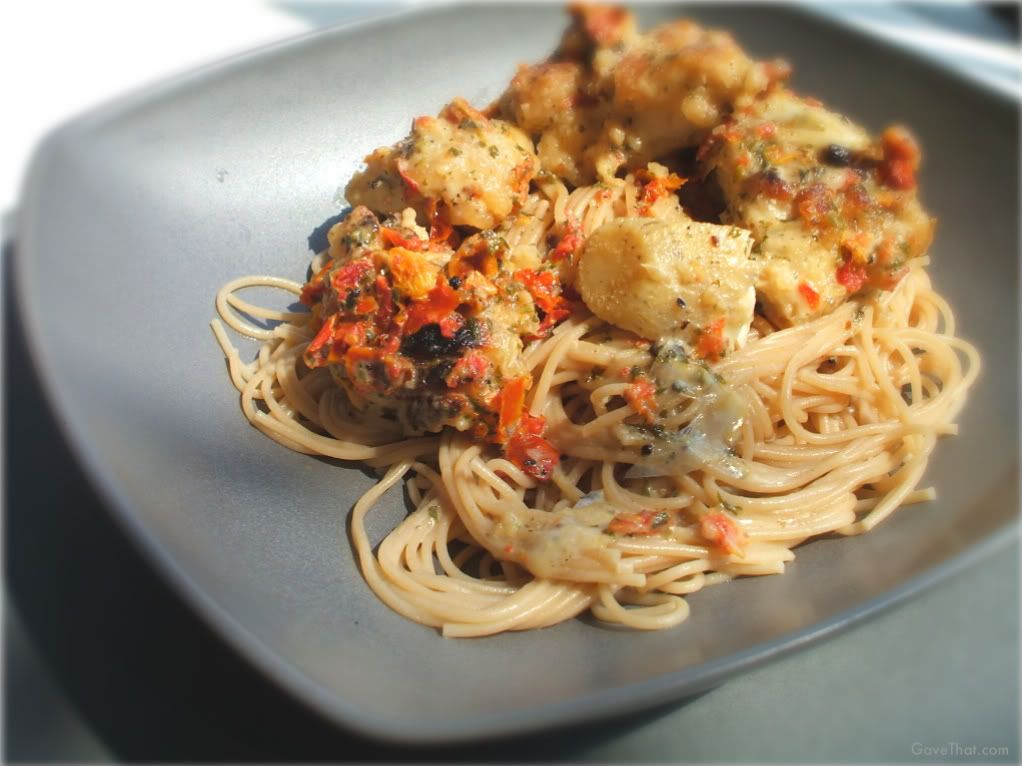 What I made

:

Good Earth's Mediterranean Chicken with whole grain angel hair pasta, dried tomatoes & artichoke hearts



Good Earth Teas & Restaurants has created a new line of meal ideas using 100% whole grain pastas and no artificial preservatives or flavors. All you have to do is add the meat, in this case chicken or pork tenderloin or not if you want it to be vegetarian (add some tofu or squash). Everything else is provided in the box. Chef inspired tips are on the box too... that's where the idea for the artichoke hearts are to be found.
A little olive oil, some boiling of water for the pasta and everything came together rather quick and that's good for impromptu dinner parties at home. Anything that makes it
look
like you put in a lot of effort is the ace in your pocket. The best part is getting people to covert to whole grain pastas and this was the gem of Good Earth. The pasta was very soft, had some bite and nuttiness but was very much like regular angel hair. Setting this out family style everyone dug in and kept coming back to the pasta and how delicious it was. Good Earth people... Good Earth.
Thank you
MyBlogSpark
and Good Earth for the chance to sample the new line and better yet do a
giveaway
for you! Along with a box of Good Earth Mediterranean Chicken you will find something else very cool. Bamboo cutlery sets, dishes and a cutting board! Bamboo has become the "it" sustainable material of late and it was fun giving them a try. A reusable tote bag is included too. Open to US readers, all you have to do
to enter
: is email me:
gavethat@gmail.com
with "Good Earth" in the subject line and let me know if you've tried whole grain pastas. That's it! One entry per person, email, household. Winner chosen randomly. You have
until July 14th
2010 so act quick.
Thank you myblogspark and Good Earth!
Editor Note - Good Earth provided their products for review, product information, and gift pack through MyBlogSpark for this giveaway. Thank you both!
Please note that fulfillment of the prize package is being handled by myblogsprk.
Congratulations to Cheryl, she's July's Good Earth winner!! I want to thank everyone who emailed to enter, so many of you did which was awesome.
Image: MAM for GaveThat