World AIDS Day - Bloggers Unite - Give Twice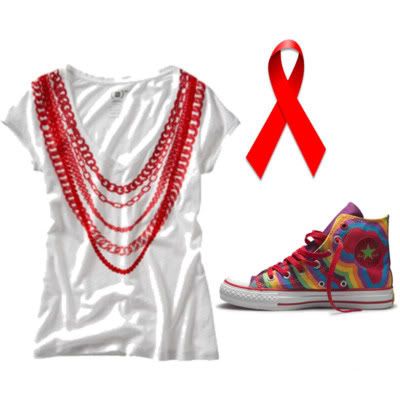 Today in honor of

World AIDS day

and Bloggers Unite here is a collection of holiday gift ideas that give twice by giving back to AIDS/HIV causes and bringing awareness:

Designer

Michelle Roy

has created two gifts that give back--one is the

Angel Wings collection of shirts

, $76. with a portion of proceeds benefiting Project Angel Food, which delivers free and nutritious meals to men, women, and children suffering from HIV/AIDS or other life threatening illnesses.

Designers Against AIDS

have created many more capsule collections in addition to the one with

H&M featured in the past here at Gave That (which is still going strong)

. They now have an online store (based in the UK)

found here

and have also created a bedding line with Belgian Mistral Home Textiles and various artists. Look for them in Makro Stores in Belgium from September 9th 2009, 24,90€.

dolfilms.org

has these amazing African bracelets benefiting and created by women coping with HIV/AIDS in the region. $15.

Margherita Missoni

has joined forces

Valextra

to create cute little leather passport holders. Each one sold will benefit OrphanAid Africa. $290. at Barneys New York (212-826-8900).

Jimmy Choo

is getting in on the act as well with a charity line of cute handbags perfect as a gift along with shoes (of course!)

called Project PEP

that will benefit the Elton John Foundation. Concentrating on AIDS a portion of proceeds will go to the Simelela Rape Centre in Cape Town, South Africa. As seen in

WWD

.

A long time favorite bastion of gifts benefiting AIDS/HIV is PRODUCT (RED) by the

Gap

. Be sure to check out their latest tee shirt design for the project by

Stella McCartney

, $28.

Converse

has joined forces with

(RED)

and various artists to create its latest

1HUND(RED)s collection

. One of these newest releases is the

above 1HUND (RED) hands Shoe

Converse sneakers remain one of those rare gift worthy shoes--we give these major thumbs up!

Like all (RED) products, a percentage of sales of these trainers benefits The Global Fund's efforts to fight AIDS in Africa. Around $60. to $78.