Holiday Gift Guide '09: For Him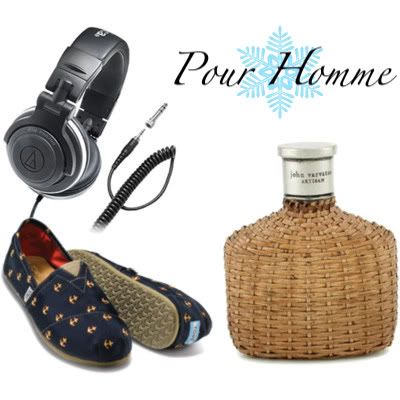 To be frank this is a guide based on givability. There are so many things, from a woman's point of view, that sound like it should be perfect but turns out to be a huge flop once given. I've flopped so you don't have to.

{said flops have been left off this list}
1)
Audio Technica

ATH-ANC7B Active Noise-Canceling Headphones
are perfect for the commuters or audiophiles in your life.
2)
John Varvatos

Artisan
is one of my favorite releases of the year. The bust of orange is jolting in the morning and the bottle encased in rattan doubles as art on his sink.
3)
Every guy should have a pair of
TOMS shoes
to wear around the house, to the beach or when kicking back. Best of all for every pair you buy, TOMS donates a pair to children in need around the world.
Click here to keep reading my favorite gift picks for guys>>
See my latest holiday gift guide here
.