Thoroughly Illuminated : Gail DeLOACH Capiz

Last week as our
Savvy Gift Finds
roundup was being put to rest I noticed an intriguing name at
Gilt
...
Gail DeLOACH
. Meandering through the sneak peak offered at the official Gilt Groupe blog I found examples of wine buckets and serving pieces laminated with embossed leather. Swank and classic but nothing incredibly memorable.
Once the actual shopping event opened I was incredibly fascinated by the pieces not previewed: in particular Gail DeLOACH's line of Capiz bowls. There once again, as has been covered (seemingly) so many times before here, is the presence of what I like to call a rare piece of restraint in each dish. Something looking almost as if it was formed by the earth or over thousands of years via osmosis. Is it ancient? Is it from an Egyptian tomb or was is used by a Tibetan monk? All I know is it is indeed gorgeous thanks to an incredible amount of gossamer-esk luminosity which comes from the Capiz—a shell found in the Philippines. Unfortunately this cannot really be detected in the images above. Gilt did an incredible job of highlighting them via their photography which proves that certain pieces need to be seen and felt in person.
While Gail DeLOACH sounds like a mysterious women with incredible design prowess, the name is actually an umbrella for the Los Angeles based wholesale design firm formally (or still) going by Asiaphile Inc. The original name hints at the possible cause for such delicate designs and affinity with water not to mention the Philippine islands. The Capiz bowls start at around $65.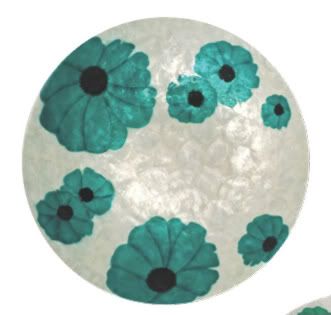 Image: Gail DeLOACH Pictured: Gail DeLOACH Capiz plates in Eucalyptus and Blue Poppy.