Enter Our Christmas Box Giveaway - Now Until Dec. 19th
Enter For Your Chance To WIN The Best Selling Christmas Box!
15 Winners In All!
[This contest is now over, please visit our homepage for new contests]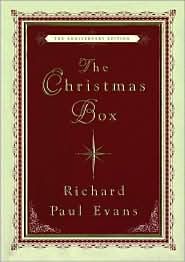 How To Enter:
Click here to enter The Christmas Box Giveaway
All you have to do is enter a valid email address at the above link and make sure to confirm your entry by clicking the link that is emailed to you.
Or
you can leave a
comment
below, please make sure to include your name/email address.
Richard Paul Evans has kindly sent GaveThat.com copies of his New York Times best selling book The Christmas Box to give away to our readers. A heart warming novel, The Christmas Box has won numerous praises by readers and is perfect for the whole family. While we won't be a spoiler, the true aim of this book is to bring a deeper meaning back to the Christmas holiday. 15 of our readers, randomly chosen, will win so enter now until the 19th of December!
* You will need to confirm your email address entry in order for it to be valid. If you do not see an email from GaveThat.com/Feedburner, please look in your spam box and if it is still not there please come back and enter your address again or leave your entry as a comment below. Only sign ups between today (Dec. 15th) and Dec. 19th will be valid entries. All entrants can opt out at any time but doing so prior to the contests end can cause forfeit of prize. This contest is open to our US & international audience. One (1) entry per person, per household, per email address. Some restrictions apply and void where prohibited. In the event a winner fails to reply with his/her address for prize shipment we reserve the right to choose another winner based on existing entrants. Contest ends December 19th.