Magic Hat's Get Out The Vote Sampler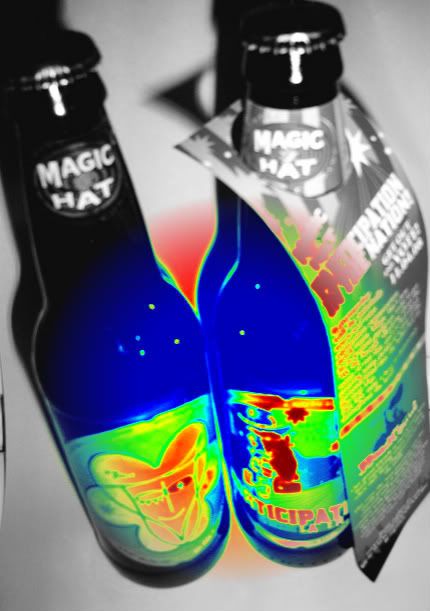 I think this is quite possibly one of the most unique beers I've ever seen. The Burlington Vermont micro-brewer
Magic Hat
along with Head Count has come out with a Get Out The Vote patriotic
Participation Sampler
pack that includes a larger of the same name. It also includes
Jinx, 9
and
Circus Boy
. How can you not dig a beer named
Circus Boy
?
Let's see idle chatter about politics at a party mixed with alcohol (Jinx is a 6.9%), if that isn't a recipe for fist fights I don't know what is.
Magic Hat's sampler is one of those perfect examples of a classic hostess / host gift taken up a notch. Not only will it show thought but a great sense of humor. Usually etiquette frowns on any talk of politics at a party but during the elections it's all people want to talk about in the US so why bother trying to stifle it. Encourage it at that next social! It may be your only chance to get away with it.
As for the beer itself I had to try Jinx despite the high alcohol content. The label reads, "an Ale inspired by the doctrines of medieval chemists". Now how could anyone not be curious about that? A day later I think I'm still feeling the head swimming effects. It's taste was decidedly complicated, rich and deep. Burnt brown sugar that turned very bitter. Sure enough at
Magic Hat's website
they describe Jinx as being, "a full bodied strong ale the color of maple's golden leaves in the season's fading sun. Finished with a touch of peat-smoked whiskey malt, Jinx offers sweet, toasty aromas of caramel, tea, and smoke. Deep flavors of dark candy sugar and warming alcohol notes are balanced by a spicy hop bitterness.". It won't bump
Yuengling Porter
from my favorite list but it's worthy of another tasting come fall.
Of course the real star of the show is the red hued
Participation Larger
. Magic Hat describes it as, "[begining] with a subtly sweet burst of caramelized pale, chocolate, and dark crystal malts upon the tongue. This initial party platform is balanced by distinct toffee flavors and just the slightest hint of blackstrap molasses, which is added to the ticket to magnify the magnificent maltiness. Though hopped and dry hopped with fuggles, Participation nonetheless possesses a low hop flavor and aroma so as not to distract from the democratic deeds at hand." I would give my two cents but I was too Jinxed to try it.
Gave That gives major thumbs up to the labels unique artwork and to Jinx for making one mean Carbonnade.
For a non-alcoholic alternative check out
Jones Soda's
Campaign Cola
$15 for a six pack.
Image: copyright GaveThat.com mam 2008

.
Also Read:
- The Ultimate Beer Tour - Yuengling Pottsville