The Jewelry of Alexander Calder Rediscovered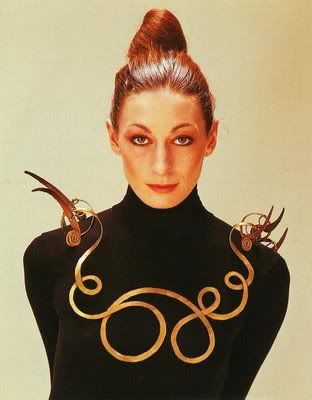 I have to admit that I want to make a date with
Alexander Calder's
jewelry this coming winter. For those of you in sunny Florida USA you should be able to enjoy it right this moment at the Norton Museum of Art.
Like many I've always been intrigued by Mr. Calders works but it wasn't until I had a very welcome flashback that I started to mark the calender. Flipping through my The Magazine Antiques (March 2008 issue) I came across huge pictures of Alexanders swirling and chunky creations in Jessica Holmes' "Alexander Calder's Wearable Art: Savage and Deliberate". This has been one of the best write ups on the traveling exhibit and if you can find a copy (they're sadly old-school and don't publish articles at the website, tisk, tisk), grab it and run. When I saw the crop circle like pins hammered from metal and, more so the pendents, it took me back to a handmade gift someone gave me long ago. I was struck by how similar it was... all unintentional I'm sure. It's times like that you really want to savor and I did as long as possible. Would I want to go without the above? Who knows... although I want to think
yes
.
Of course Mr. Calders jewelry is probably out of most peoples price range so I had a good time perusing etsy and here is what I found:


Pictures by: (starting from top left) etsy stores - jewelrybynatsuko, originaldesignsbylc, UrbanCloseouts

The, "Battered Love" sweater pin, by Accents by Dave


Swirls Earrings by Silver Rose Designs
Alexander Calder's jewelry starts off at the Norton Museum of Art in West Palm Beach, Fla., then travelling to the Philadelphia Museum of Art (July 12–October 19);
Metropolitan Museum of Art NYC
(December 8–March 1, 2009) and the Irish Museum of Modern Art, Dublin (March 31–June 22, 2009) (as provided by Sandman Chronicles blog, the only place I could find a list of dates).
For more pictures and commentary check out the artist blog
Sandman Chronicles
post,
The Other Alexander Calder
. There is also a new limited ed., book to go along with the amazing exhibit,
Alexander Calder's Jewelry
.
Image: Anjelica Huston wearing Alexander Calder necklace for the cover of the New York Times Magazine 1976, by Evelyn Hofer.
Also Read:
- Imperishable Beauty Dragonflies at MFA Boston