Give Twice : Nest - FeedBag 100 Whole Foods - Luella Bartley Tonic
GaveThat.com rounds up ways for your to give twice... once to the gift recipient and again to worthy causes! Why give once when you can give twice as much?
Shop Nest and Support Women Artists
I'm really loving the concept of Nest, a non-profit store that creates micro-loans for women artisans in developing countries. Started by Rebecca Kousky, Nest has a growing selection of handmade goods including jewelry and bags for very reasonable prices. Be sure to check out the Colorful Rope necklace by designer Meral Tuncer at the site. It would go perfect with that new Nantucket Rope bracelet wouldn't you say? As seen in Cosmo.
2010 note: Nest has partnered with FEED bags to help women in Guatemala, see this latest
FEED bag here
.
Luella Bartly Wants to Help Haiti
with Tonic
Designer
Luella Bartly
has designed a really cute robin t-shirt ($45.00) which will fund a pair of shoes for a child in Haiti. Of course, at this point, I think the people there would rather have food so they can stop eating cookies made of dirt, but at least Ms. Bartly is trying. Sold at Tonic, check out
their website
for more information. As seen in Teen Vogue.
The New Feed Bag 100 at Whole Foods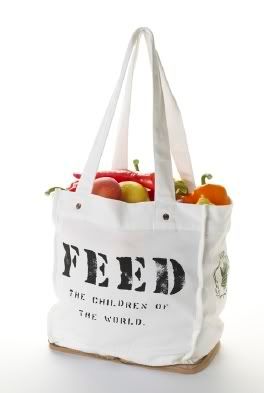 Finally Whole Foods is getting something right when it comes to eco tote bags. Let's hope what happened in
Battle of the Bags
won't be a recurrence. At $30.00, each
FeedBag 100
shopper bought will feed 100 children worldwide. Already have a FeedBag? Well you'll want to buy and give this new one too as it neatly folds up into its own zip case. Making it incredibly easy to slip into your handbag and reconstitute when you're in a toting situation... like a quick stop to buy flowers or all those heavy books you can't live without at the used bookstore. It's really cool.
Ana says: I really want one of these badly!
As seen in Teen Vogue.
Christian Lacroix for EJF
Christian has gotten tough by creating a t-shirt covered in flowers, hearts and some fairy looking being buzzing about. While this seems soft and sweet each $70.00, 100% organic cotton, shirt will help fund the
Environmental Justice Foundation
which aims to prevent and crack down on child labor in the cotton industry. Along with Mr. Lacroix other designers such as Luella Bartley and Betty Jackson have also created shirts for EJF and a number of models have been wearing them backstage at shows to get the word out. Check out the foundations shop for the limited edition shirts. As seen in Teen Vogue.
Masai Women Want to Brighten Your Life
pono
132 West 36th St. NYC is selling African Brightness of Life beaded bangle bracelets ($25.00) created by Masai women in Kenya. Each bracelet sold benefits a girl who has been victimized in the region.
Do you know about a company or gift idea that gives back to a good cause? If so drop us a line here at gavethat@gmail.com or twitter it to us @gavethat so we can feature it in an upcoming post
.
Also See:
- Spring Give Twice Gift Picks: FEEDBAG 2 Bag
-
FEED Guatemala bag