DIY Hostess Gifts : N.E.E.T Pillows and Blogs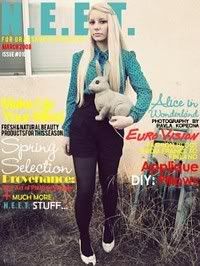 If you don't already read
N.E.E.T magazine
you're really missing out. I remember when it first started and am floored at how it has progressed over the years. It's somewhat Nylon like only 10 times better as it's more street real. It's free to read, totally online (saves trees) although you will need high speed DHL, etc., and comes out quarterly. In this latest issue they show how to create your own decorative pillows (page 96) which would make a super unique hostess or housewarming gift. They also have articles on vintage finds.
Another area of interest although it doesn't pertain much to gift giving is how they highlighted and interviewed bloggers from Europe.
Susie Bubble
in style I was surprised that I never heard or been to any of them before. I guess the world wide web isn't as world wide as many of us think with many bloggers linking mostly to sites in their own local (US).
If you want to go over and take a look, they are:






Each personal style blogger also gives other blogs
they
like to visit and this sends you on yet another search though unseen wonders such as
http://underbaraclara.webblogg.se/
although the last post is
farewell
and
I'll keep you posted
. Another one that makes you want to run out and buy red sunglasses,
http://elinkan.blogg.se/
and
Cherry Blossom Girl
from France.