Jessica Simpson Finds The Perfect Vacation Gift - Rebecca Virtue Tote

Image: BSL / National Photo
Lucky
Jessica Simpson
finds herself in Hawaii for a bit of R&R but even better is what she has on her arm. No, we're not talking about Tony Romo, we mean her beach tote bag. Jessica is sporting the Becca® straw bag by
Rebecca Virtue
which can be found at [ Link removed due to item no longer being sold] (800.888.8200) for $124.00.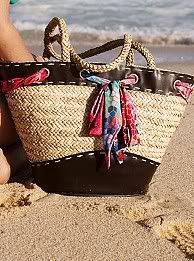 Image: Victoria's Secret
When I first saw this bag a couple of weeks ago I knew it would be perfect! One of my favorite gifts to give those going away on winter vacation is a beach bag filled with goodies. Everyone needs a large beach tote yet many forget to buy one before they leave. This is where you come in. Load it up with novels, magazines and sunblock and you're pal might remember to invite you along next time. The Becca® is made extra special with the interchangeable tie scarf laced through the top and the way it comes with two so you can wear the one not in use. For an extra kick lace a vintage scarf though the holes so you'll be giving a real one-of-a-kind gift.